Hello friends,
It's been a long time coming, but we're finally ready to unveil our next big update for Late For Work, featuring the most requested new features: game mode customization and Index Controller support.
As luck would have it, we've timed this update with a big update to GrowRilla. To celebrate, both games are going on sale this week! This is the best opportunity to grab them ever, both to save money and get all the new features. If you already own one, make sure to grab our VR Indie bundle to get the second game, as you'll save another 10%!
Let's dive into this update!
Everything is Customizable
As we mentioned in our preview post, you can now edit virtually every setting in the game. From the number of kills the gorilla has to achieve in a deathmatch game to the suction strength of the UFO abduction beam.
You can find the settings in the start menu on the bottom right; opening them will lead you to a text file on your desktop in which you can edit almost every setting you can think of: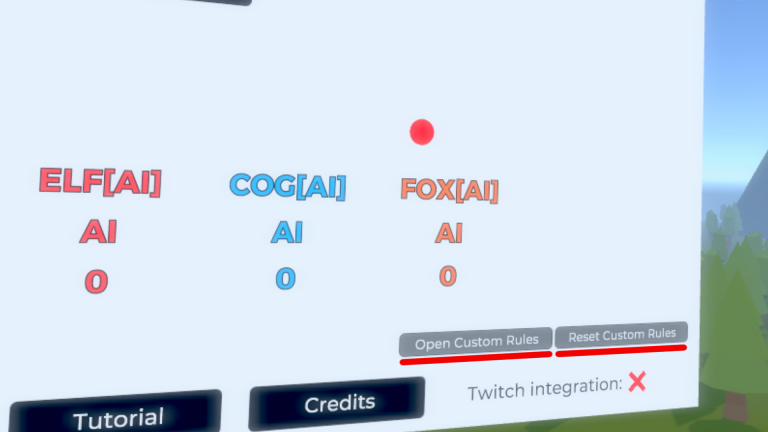 We also published a guide to explain all the different settings. If you're having trouble finding a specific setting or you're unsure about some of the configurations, you can check it our here.
We hope you will try out balancing the game modes to your liking. Let us know what you think of this new feature and share your favorite configurations (here or in our Discord.
Index Controller Support
Since the Index Controllers were already supported in GrowRilla, we now went back and also added proper support to Late For Work. They used to work fine thanks to a mapping we set up last year, but we wanted to integrate them to the tutorials and menu system. You can now use them to physically drag yourself through the world and become the ultimate VR gorilla without breaking the immersion of seeing a Vive wand. The Index Controllers are our favorite VR input device and we're delighted to fully support them. Our intuitive gorilla movement system feels even more comfortable using them.
Bug Fixes
We've fixed a number of smaller issues that have been reported by the community (thank you for all your feedback. As always we love to hear from our community, please join our Discord and get in touch with us).
Some of the issues addressed:
Remove OP trees and lanterns in Bodyguard map
Add fixed rocks for hiding spots in Bodyguard map
Hide exclamation marks in Bull Run mode
Minor fixes to Ape Escape mode
Fixed a number of AI issues related to the new game mode configurations
Beach umbrellas no longer stick to hands
Buses now obey the laws of physics when tossed or hit into the air (instead of restarting their movement animation mid-air)
That sums up the major changes in this update. We're really excited to hear some feedback on the editable game rules. It looks like a minor change but we've had to touch the core parts of every game mode to expose these values. This game is challenging to balance for all the possible combinations of players (5 players vs 2, kids vs adults vs hardcore gamers vs VR beginners). We hope you'll enjoy editing all the modes to your liking.
Cheers, Salmi Games