Hello friends,
Today we are super excited to announce the 1.0 release of Late For Work and our exit from Early Access. After 23 months and 13 major updates, we are proud to release the biggest update to Late For Work yet. We also want to share our plans for the future, for Late For Work and for our next VR games but first let's go over what's in our 1.0 release!
1.0 Content Update: Polish, Polish, Polish!
Our 1.0 update is focused first and foremost on providing a stable and polished core experience. We invested a lot of effort testing the game and fixing bugs. Most (all?) of the recent player-spawning weirdness from the last updates are gone now. We've also fixed a number of other annoyances, please see the full changelist at the bottom for details.
We've improved and polished the UI in every game mode to better convey the score and relevant information for each game. We also updated all the visual UI assets.
We spent time going over each map. The town and seaport maps have been pretty good and balanced for a while but the valley and the snow map needed some love. Both maps are more fleshed out, with a bigger play area, more content, and more places to hide and explore. We also did a full visual color grading pass on the game.
New Game Mode: Ape Escape
We added another whole new game mode! Finally, the gorilla has been cut down to size and the tables have been turned. The now normal-sized gorilla has to evade capture from the mad scientists (non-VR players), who are hunting the gorilla and trying to capture the gorilla in their special oversized nets. Slam down your net and secure the gorilla to win. We call this beautiful game mode… Ape Escape!
Gorilla Body 2.0
The gorilla has a body, finally! We've also redone the model to be more…gorilla-esque and consistent with the overall art style. The new gorilla chest is also a hit box and more easily hit from plane and tank shots. It also makes it much easier to spot the gorilla from a distance. We also experimented with a dynamic chest inclining algorithm. We think it works pretty well, we hope you like it too.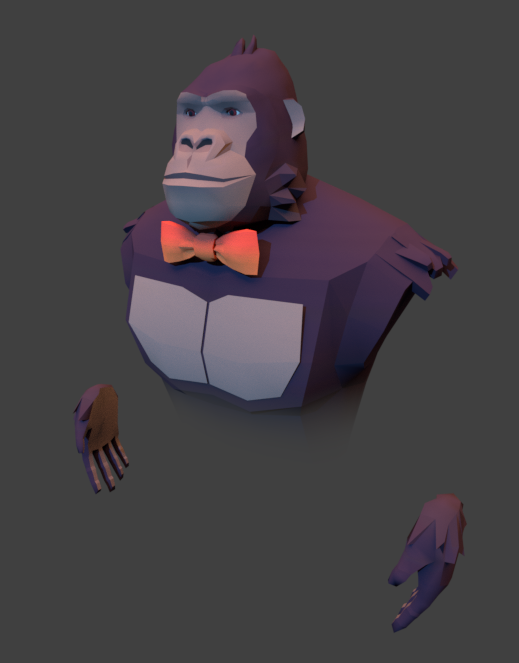 What's Next?
With this 1.0 release, we will scale down our efforts on Late For Work. While there are tons of ideas we would still love to implement, we have decided to focus on new VR games projects to have a better shot at supporting ourselves financially. Late For Work has been an incredibly fun project to work on, but unfortunately it's not very financially viable.
We will be monitoring feedback on the game and we will of course fix any annoying bugs but please don't expect major new content for the game (unless the sales numbers drastically spike or say, this post gets 500 upvotes or maybe we get to a hundred reviews? That would really motivate us).
In the meantime, we have started working on a new game called GrowRilla and it would mean a lot to us if you add it to your wishlist. For all of you who own a copy of Late For Work, we're working on setting up an exclusive discount on GrowRilla as a small thank you for your support of our studio.
Stay tuned in the coming days for another update where we dig a bit more into our plans for the future, discussing our sales numbers and why we're moving on from Late For Work.
How To Support Us
If you're reading this far it means you've probably bought one of our games and enjoy it, so first of all: thank you, we can't really ask you for more. But if you want to help us keep making fun VR games, then the best ways to support us are:
Leave us a review
Buy our other games
Tell people about our games
Thank you as always. It's been a fun ride.
Changelog - Build 628
Improvements
Gameplay: Valley and mountain map received a massive overhaul
Gameplay: new Ape Escape game mode
Gameplay: Single player missions health has been adjusted to be more generous
Gameplay: Tank shots now have a larger impact radius and more force behind them
Gameplay: Changed how spawning for non VR players work in the tutorial, so you are now able to always respawn as a car
Visuals: The gorilla now has a new head and body for you to shoot at
Visuals: All maps now have improved color grading
Visuals: Added sidewalks to all maps
Visuals: You can now switch seasons in the menu
Visuals: Updated the desktop icon
Visuals: All UI icons of the old gorilla head, tanks and planes have been updated with their new counterparts
Usability: Multiplayer tab is now more prominent and always the default activated tab on startup
Usability: Removed the experiments tab as most experiments were broken
Usability: The menu is now less likely to be blocked by ingame objects when you open it
Usability: Updated the result menu to display information better
Audio: Reduced the noise planes make
AI: Improved car AI, better at hiding from the gorilla
UI: Updated text for non-VR players when the gorilla is in the menu
UI: Non-VR player UI got updated (now in the top center and displays information better)
UI: In-game UI is now hidden while you are in the menu
UI: Removed the death counter in hide & seek as it served no purpose and was blocked partly by the timer
UI: Non-VR player UI now displays how many VIPs are left in bodyguard mode
UI: Non-VR player UI now displays numbers of targets collected as well as number of UFOs destroyed in UFO mode
Fixes
The billboard in the "save the city" single-player mission displays the sustained damage correctly again
Fixed a bug where cars would drive off the road for no reason
You are no longer able to start a round of bodyguard when there are no other players
Fixed a bunch of broken disguises in last man standing
Fixed a bug where non VR players were assigned no unit in bodyguard mode
Fixed an issue where one player would control two vehicles in the tutorial
The font for the plane ammo no longer increases in size over the course of a match
Tanks no longer spawn inside of objects
Tanks no longer get stuck on lampposts lying on the ground
Fixed a bug where tanks would drop through the level on american city, but would still be able to drive around and hit the gorilla
The game no longer resets the gorilla's height when you eat something while ducking
The menu text is no longer obstructed by the "back" button
Fixed a bug where the UI would display keyboard controls for controller players
The game mode descriptions are no longer missing when you start the game
Fixed a bug where two players would spawn with the same plane
Fixed a bug where you could boost yourself into the air in the victory screen, even if you weren't being held by the gorilla
UFO mode no longer has out of season UFOs
The menu no longer clips into the ground and thus hides the "quit" and "tutorial" buttons
Fixed a bug where you wouldn't lose the bullrun gamemode as gorilla even if you ate too many innocent cows
The "restart" button no longer appears if you went back in the menu, even if you never started a game mode
Fixed some physics issues in the bodyguard game mode
Fixed a bug where no AI players would join in hide & seek mode
Fixed a bug where some humans would not count as collected in UFO mode